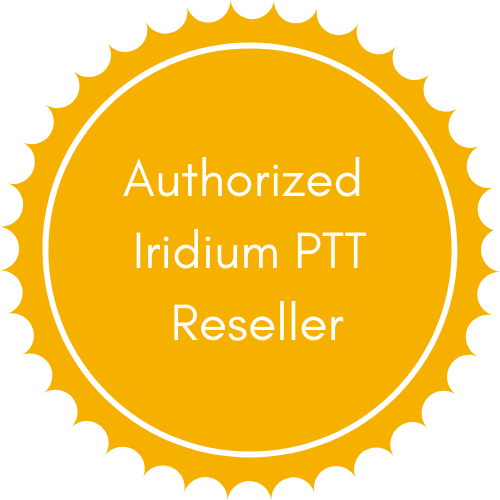 Iridium Satellite Push-to-Talk
Easy to use. Portable. Connect globally at the push of a button.
The Iridium® Push-to-Talk (PTT) solution is the world's first global and portable, satellite-based push-to-talk service. It enables fast, simple, and global group communications at the push of a button, enabling instant communication between participants located anywhere on earth.
The solution includes the Iridium PTT service; the Iridium Command Center, the cloud-based management system where radios and talk groups are managed; and the Iridium PTT radios, including the Iridium Extreme® PTT and other devices powered by the Iridium PTT 9523 Core transceiver, which enables manufacturing partners to further expand the enterprise applications for Iridium PTT.
Connect With Your Team Instantly From Anywhere
With Iridium Push-to-Talk (PTT), the entire planet is your network. Iridium's unique global constellation of 66 cross-linked low-Earth orbit (LEO) satellites lets you connect in the same way as you would with terrestrial-based trunked radio systems — without having to build infrastructure.
Fast and Secure
This unique global service is built for speed and security, with connection speeds comparable to land-mobile radio and no-compromise AES-256 encryption standards — supporting coordination and control of your team and resources like never before.
A dual-mode Satphone and push-to-talk device.
Iridium Extreme® PTT puts global push-to-talk, voice, text, data, and SOS communication in the palm of your hand. Only Iridium can deliver the power of fast, simple, secure group communication with the toughest most feature-rich PTT-enabled phone on the market.

Iridium PTT Command Center
A powerful, intuitive dashboard for centralized control
The true power of the Iridium Portable Push-to-Talk solution lies within the Command Center. The intuitive and robust browser-based tool offers the complete flexibility to manage talkgroups, coverage areas and Iridium Push-to-Talk devices on the fly within seconds.
Manage Talk Groups
- Define talkgroup size: 100,000, 300,000 or 750,000 km2
- Drag-and-drop devices into talkgroups
- Effect changes in near real-time
Define and Manage Coverage
- Define up to 10 coverage regions per talkgroup
- Delimit coverage areas by shape (circle, rectangle, square)
- Change coverage area or regions at any time
Manage Devices
- Customize device names and find them easily using search
- Add or remove devices from talkgroups in near real-time
- Disable devices within seconds
- Assign up to 15 talkgroups per device
- Full reporting of talkgroups, devices, usage and event logs



Features & Tech Specs of Iridium Extreme PTT

Device Features
- Dual mode – Phone (voice, SMS, data (and SOS) and PTT
- Switch from phone to PTT in <10 seconds
- Switch from PTT to phone in <20 seconds
- Meets military-grade durability standards
- Jet-water, shock and dust resistance (IP65-rated)
- Compact, lightweight design for ultimate portability
- Diamond treaded, taper grip for in-hand ergonomics
- Built-in PTT button
- Integrated loudspeaker
- Rugged, high-gain antenna
- Daylight-readable, glare-resistant display
- 0.1" (2.5 mm) headset and hands-free capability

PTT Mode Features
In PTT mode, you have access to unparalleled situation awareness and control features users
will expect with added capabilities including:
- Fastest satellite-based PTT: <2 seconds to first initiate a talkgroup, <500 milliseconds once intiated
- Low latency, <1 second audio delay front end
- "PTT" service status displayed on LCD
- Can be provisioned for up to 15 talkgroups including 1 priority talkgroup
- Two PTT operating modes:
Home mode – looks for activity on a specific talkgroup and participates in any sessions
Scan mode – scans for activity on provisioned talkgroups and plays a few seconds of audio
- Displays speaker's device ID, distance and bearing
- Over-the-air programming. Device auto-updates every 4 hours by default, or users
can initiate on demand

Specifications
- Dimensions: 5.5" x 2.4" x 1.2" (140 mm x
60 mm x 32 mm)
- Weight: 9.5 oz (268 g)
- Operating temperature: 14°F to 131°F (-10°C to 55°C)
- Phone Mode battery duration:
- Standby: Up to 54 hours
- Talk time: Up to 6.5 hours
- PTT Mode battery duration:
Standby: Up to 16.5 hours
Talk time: Up to 5 hours